Wow I have been averaging about a week in between blogs. Understandable, however, because I have been up to my eyeballs in packing away 5 years of junk so that I can start moving into a new apartment tomorrow.
Anyway, you are more interested in job/nursing related topics, so here's one, despite me not doing anything in a nursing capacity since early April.
I signed up for my first continuing education course today. That's right. CONTINUING education. You'd think that they'd give you a bit of a break before starting to do more classwork related to the profession.
HOWEVER, it's an ECG reading course, and it's online, so it can't be that bad. I'll need it if I want to complete ACLS. I'm sure it'll also help me with the Trauma Nursing Core Course that I'll need to take in order to be a competitive candidate for Emerg after the next few months.
You see, I have a job in the Emergency Department, but it is only a 7.5month temporary full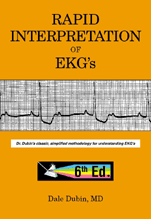 time position. They will mentor me for a while, and it is expected that when job postings become available that I should apply for a full time job at that point. However, there are 7 of us doing the same type of job, and who knows how many jobs there will be. If I want to get one of those spots, I'm going to have to work my butt off, and show them I'm an asset.
So, $150 and an online course, here I come!
By the way if you're ever into light medical reading, Dubin's Rapid Interpretation of EKG's is a fabulous book. Its easy to read, thorough, and it teaches you how to read ECGs. If it wasn't for actually having to have the actual certification, I wouldn't even take the ECG course.. I would just read and memorize this book. I have not been paid for this review.